On behalf of the Neuroscience Steering Committee, you are cordially invited to the 25th ANNUAL NEUROSCIENCE AT STORRS SYMPOSIUM on November 8-9, 2022, in Dodd / Bousfield on the Storrs campus.
This annual event brings together the neuroscience community at UConn from across diverse departments and schools including the departments of Physiology and Neurobiology, Psychological Sciences, Neuroscience (UCHC), Biomedical Engineering, Pharmaceutical Sciences, Electrical and Computer Engineering and The Connecticut Institute for the Brain and Cognitive Sciences. To celebrate the 25th anniversary, NEUROSCIENCE AT STORRS is bigger than ever this year, with a 2-day program packed with inspiring keynote lectures, exciting talks, and an interdisciplinary career panel for students and postdoctoral trainees.
All events are open to interested undergraduates, grad students, postdocs, staff and faculty from across UConn departments and schools and fellow Universities across the New England region.
As our Keynote Speakers this year, we are thrilled to host
On November 8, 2022, at 4:00 pm: AMANDA LAUER, Associate Professor of Otolaryngology at The Johns Hopkins University
On November 9, 2022, at 4:30 pm: AMY HAUK NEWMAN, Scientific Director of the NIDA Intramural Research and Medication Development Programs.

In addition, on November 9, starting at 3:00 pm, we will be hosting a data blitz (short-format podium presentations from grad students and postdocs), a career panel, and a poster session (from grad students, postdocs and undergrads). Students and postdoctoral fellows are enthusiastically encouraged to participate in the poster and data blitz presentations. Please sign up below.
For general inquiries about the event, please contact Prof. John Salamone (john.salamone@uconn.edu) in the Dept. of Psychological Sciences.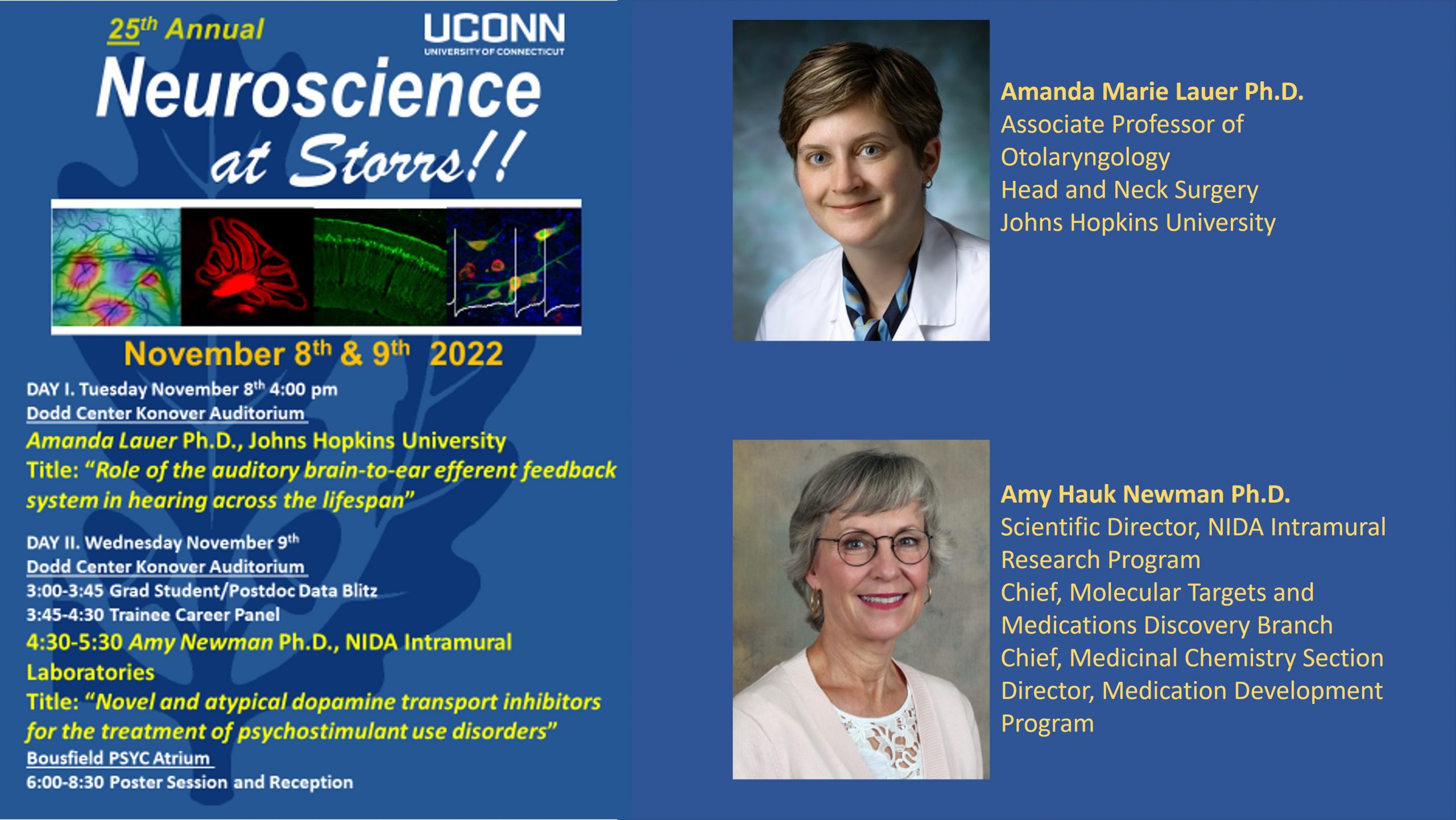 Use this form to RSVP as an attendee only
Use this form if you wish to be considered for the poster session (limited spots available)
Neuroscience at Storrs Poster Signup 2022
Use this form if you wish to be considered for the DataBlitz Talks (limited spots available)
Neuroscience at Storrs DataBlitz Signup 2022